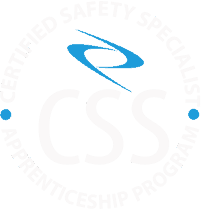 We are proud to announce the Certified Safety Specialist Apprenticeship Program in collaboration with the State of Washington, Department of Labor and Industries, and Edmonds College.
What is the CSS Apprenticeship Program?
The CSS Apprenticeship Program is a first-of-its-kind apprenticeship program that is tailored to the technical field of occupation safety and health.  Our purpose is to provide an alternative option to either traditional education or pure field experience.  This program will instead provide a mix of both classroom training, delivered through online safety courses along with roughly two years of on-the-job training experience with one of our registered training agents.
Whether you are a potential training agent, i.e. employer, or a candidate to become an apprentice, this is a unique and special program.
Our goal is to close the gap between field experience and education, providing safety and health professionals to the safety industry who are both well-rounded and trained for success.
Employer Testimonial
In my career as a Safety Professional, I have heard time and time again that there must be a solution to bridge the gap between the traditional field safety professional and the "college route" safety professional. I believe that the Certified Safety Specialist Apprenticeship Program (CSSAP) is the solution to that problem. By bringing on new apprentices and assigning them to seasoned professionals, we are actively participating in the growth and development of the next generation of safety professionals here at Omega Morgan. The apprentices gain real-world knowledge and hands-on experience in the role they are working towards, while simultaneously obtaining the formal education, certifications, and degrees required to be successful in the safety field today. It's the best of both worlds; we get to mold our apprentices to our specific industry and immerse them in our company culture from day one and they get to earn a living wage while furthering their education and putting real experience on their resume.
I've been truly impressed by the quality of the apprentices we have received so far from the CSSAP. Their eagerness and tenacity have far outmatched any candidate we have acquired through traditional recruitment in recent years. These individuals have already shown a commitment to their chosen craft by participating in a rigorous apprenticeship selection process and investing in their education prior to their first paycheck. Our company intends to continue growing our safety team exclusively through the CSSAP for the foreseeable future.
Jim Jones, Director of Health and Safety, Omega Morgan