Photo Above: Ashleigh using the DBI Sala 100' rope self-rescue pack to lower herself to the ground after a simulated fall.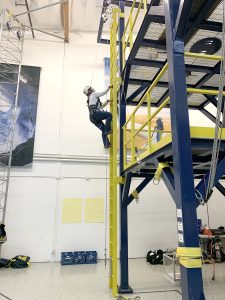 Ashleigh Oliver, one of our Alaska-based safety professionals, recently attended 3M's week-long Fall Protection Competent Person Trainer Course in Tustin, California. Trace Savage, 3M Alaska's Fall Protection Manager, donated the course on behalf of 3M as a raffle prize for the 2018 ASSP Alaska Safety Summit – and Intuitive Safety Solutions won the drawing!
Ashleigh jumped at the chance to refresh her fall protection training. Although she had earned a Gravitec 40-hour fall protection competent person/tower climbing certificate during her work in the ConocoPhillips Alaska oilfield, she wanted to update her skills and regulatory knowledge.
"It had been ten years since I'd attended the Gravitec course. Regulatory knowledge and equipment change over time – I always want to ensure I stay current. Our instructors, Tim Metzger and Tim Schenck, are top notch professionals with a wealth of practical experience as firefighters and rescue team members. The course was excellent".
3M has several fall protection training facilities nationwide, each with climbing towers and walls, rescue dummies, and a full line of fall protection and rescue equipment for students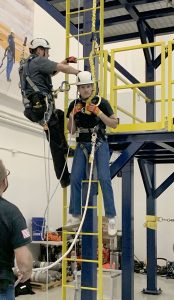 to use during practical exercises. The Trainer course certifies students to
teach fall protection competent person, and authorized fall protection user courses. Recent changes to the walking/working surface regulations, OSHA regulations and the ANSI Z359.2 standard are covered in the course, as well as:
• Fall hazard elimination and control methods
• Fall hazard surveys and fall protection procedures
• Responsibilities of Competent Persons
• Detailed inspection of equipment components and systems
• Written fall protection plans
• Fall protection system assessments and determining when a system is unsafe
• Fall protection rescue procedures and written rescue plans
• Selection and use of non-certified anchorages
• Fall hazard surveys
• Developing lesson plans
• Skills in adult education
"The Competent Person Trainer class combined classroom teaching, written exams and
extensive hands-on practical teaching with the gear. Climbing and self-rescue practice off the platform was optional, and two of us took advantage of the opportunity to take a couple of drops off the platform to use the assisted rescue and self-rescue equipment. The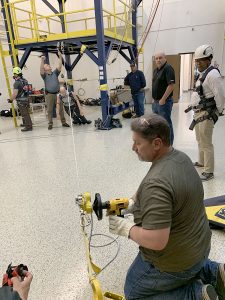 opportunity to actually use the fall and rescue equipment at heights was especially valuable. I've taken fall protection classes each year of my career and have instructed fall protection user courses – but nothing can take the place of hands-on, practical experience."
"Another benefit of the class was the opportunity to network with professionals from numerous industries. Our class was a mix of safety professionals and supervisors from the field. We worked together as teams practicing rescue, choosing anchorages, determining fall clearance, identifying anchorages and installing anchorage points. Everyone brought examples of challenges and solutions they'd faced in their workplaces – it added a level of knowledge transfer you don't get in an online course. I'd highly recommend this course for safety professionals or anyone responsible for fall protection within their company."
Even though this was a refresher course for Ashleigh, this experience was well worth the time to attend. It was definitely a win, win for everyone!