Safety Recipe of the Week: Tomato Soup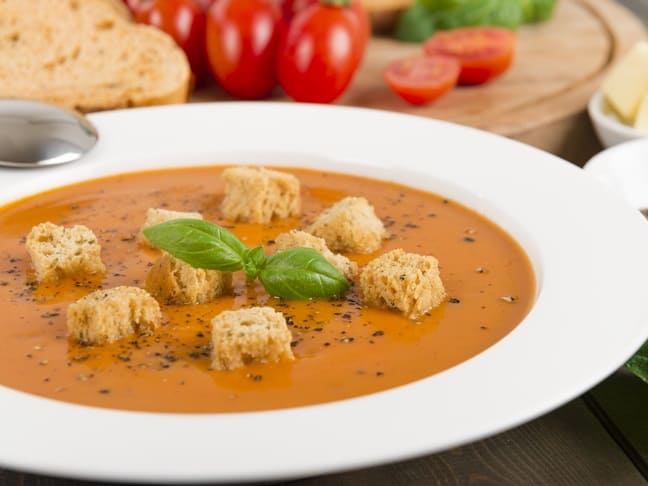 A few of us got together Friday night and played the game Telestrations. I haven't laughed that hard in a long time – the game is hysterical and I highly recommend it.
My friend Rebecca made this "DELICIOUS" Tomato soup and a really creative grilled cheese bar – which included different kinds of breads, cheeses, fruit, pickles and tomatoes. I am a purest when it comes to my grilled cheese sandwiches. I like sourdough bread for that super crunch and American cheese – that's exactly what I had. Then all I had left to do is dunk it in my tomato soup – yum!
Tomato Soup
Ingredients:
1 medium white or yellow onion
6 tablespoons (3/4 stick) butter
Two 14.5-ounce cans diced tomatoes
One 46-ounce bottle or can tomato juice
3 to 6 tablespoons sugar
1 or 2 tablespoons chicken base
Freshly ground black pepper
1 cup sherry, optional
1 1/2 cups heavy cream
1/4 cup chopped fresh basil
1/4 cup chopped flat-leaf parsley
Directions
1. To begin, dice the onion. Melt the butter in a large pot or Dutch oven. Throw in the onion and cook until translucent.
2. Now dump in the diced tomatoes and stir to combine. Add the tomato juice.
3. Next – and this is important – in order to combat the acidity of the tomatoes add 3 to 6 tablespoons of sugar. Now, you'll want to start on the low side, then taste and add more as needed. Some tomatoes and juice have more of an acidic bite than others. (For what it's worth, and I realize it's not worth much, I use 6 tablespoons of sugar.)
4. Next, add 1 or 2 tablespoons chicken base to the pot.
5. Now you can add lots of freshly ground black pepper. Stir to combine, then heat almost to a boil. Then turn off the heat.
6. Add in the sherry if desired. Stir in the cream. Add the basil and parsley and stir. If you are opposed to the chunks, you can whirl your immersion blender around a bit.
7. Serve the soup warm!