Safety Recipe of the Week: Sonoran Hot Dog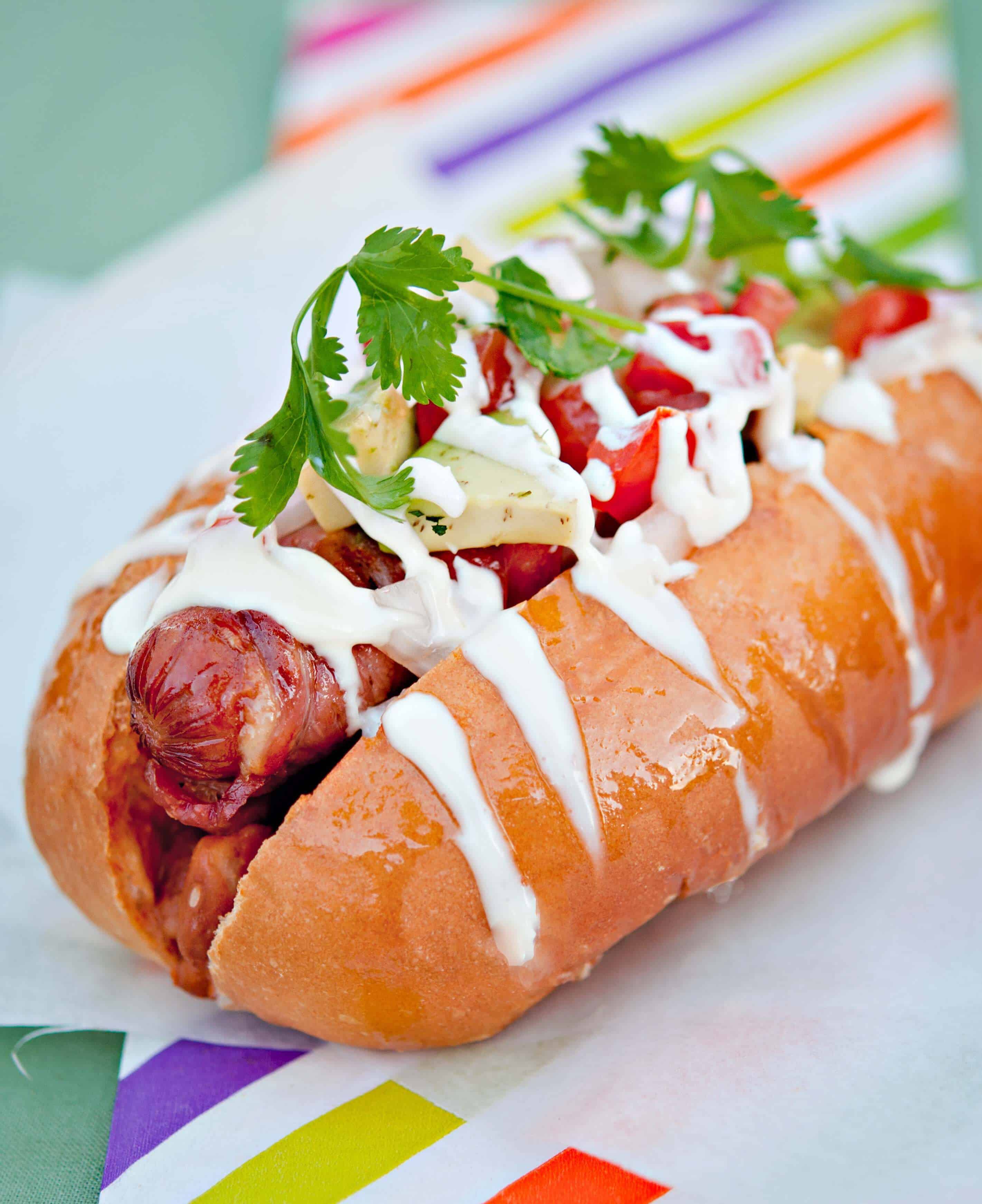 Article provided by: Melanie Taylor
Look out Chicago dog, look out New York food cart boiled hot dog (hot dog water should really be a cuss word)! Here comes the new dog on the block – the "Sonoran hot dog".
A few years back there was a show called Food Wars, this particular episode was a battle between BK Taco and El Guero Canelo – both claim they have the best Sonoran hot dog in Tucson Arizona, but ultimately BK Taco won the battle.
The hot dog originated in Hermosillo, the capital of the Mexican state of Sonora, in the late 1980s. It consists of a hot dog that is wrapped in bacon and grilled, served on a bolillo-style hot dog bun, and topped with pinto beans, onions, tomatoes, and a variety of additional condiments, often including mayonnaise, mustard, and jalapeño salsa.
We had the opportunity out to try the BK Taco version on a trip to Tucson and liked it so much we recreated the recipe, this is our version combining several variations we found on the internet. Now, it's not nearly as good at BK's but it's pretty darn good. Enjoy!
Ingredients:
• 1 package of hot dogs (I use Hebrew National)
• 10 slices thinly sliced bacon
• 10 good quality buns, lobster rolls or other soft rolls (Bolillo is the traditional bread used and is split on the top)
• 2 cans Pinto Beans
• 3 medium tomatoes, seeded and diced
• 1 medium onion, diced
• ½ bunch cilantro, minced
• 1/2 garlic clove, minced
• 2 avocados, peeled and diced
• 2 limes, juiced
• 1 cup Mexican Crema
Instructions:
1. Wrap one piece of bacon around each hot dog and secure on each end with a toothpick. Refrigerate until ready to grill.
2. Heat beans to a simmer. Strain beans over a medium mixing bowl, keep warm.
3. Toss diced tomatoes, onions, garlic and cilantro together, set aside.
4. Grill bacon wrapped hot dogs over medium heat until bacon is crispy on all sides, but not burned. Make sure to cook slowly and turn the dogs often so that the hot dogs are heated through by the time the bacon crisps, about 10 minutes.
5. Spoon the Mexican Crema into a ketchup type squirt bottle.
6. Dice avocado and toss with lime juice, then toss into the tomato mixture.
7. Assemble the hot dogs by spooning beans into the bottom of the bun. Add the hot dog and top with the avocado pico de gallo.
8. Drizzle Sonoran Hot Dogs with crema.
9. Garnish with a cilantro.