Safety Recipe of the Week: Easter Leftovers – Ham and Bacon Brunch Hash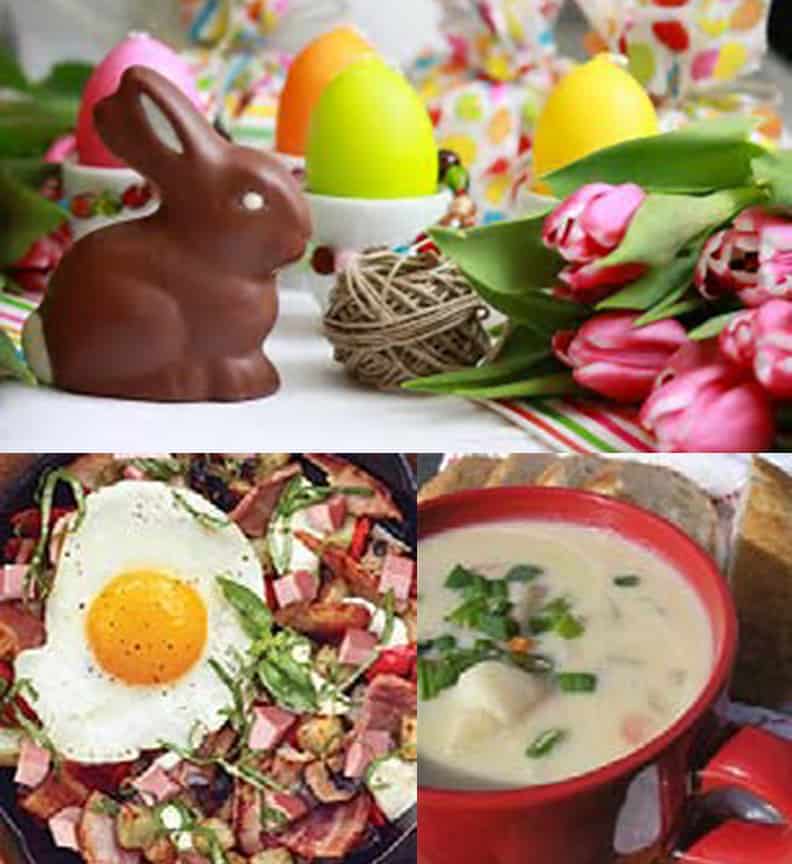 Article provided by: Melanie Taylor
There are hundreds of recipes for left over ham and eggs, boiled or otherwise. Easter in my home equals a family, a beautifully glazed ham and dying eggs for the bunny to hide. Ultimately this means left overs galore. It's hard not to buy more eggs then necessary this time of year, especially when they are on sale for .99 cents pkg of 18. Even if you are empty nesters, traveling or single…. who can resist a bargain!?
Here are a couple of recipes for Easter left overs that I enjoy, hope you do as well!
Ham and Bacon Brunch Hash
Ingredients
1 tablespoon Dijon mustard
2 tablespoons olive oil
3/4 teaspoon kosher salt
1 teaspoon freshly ground black pepper
2 pounds yellow potatoes, diced
8 ounces button mushrooms, quartered
1 1/2 cups cubed ham
4 Bacon
2/3 cup jarred roasted red peppers, drained and
roughly chopped (optional)
3/4 cup fresh mozzarella cheese, cubed
4 eggs, fried, poached, or to preference
1/3 cup thinly sliced fresh basil leaves
Directions
1. Preheat oven to 425F. In large bowl, whisk together mustard, oil, salt and pepper until
combined. Add potatoes and mushrooms and toss to coat.
2. Spread potato mixture evenly onto 2 lightly oiled or nonstick rimmed baking pans and roast in
oven for 35-40 minutes or until potatoes and mushrooms have started to brown, stirring halfway
through cooking. Add any leftover bacon or ham to the mixture and stir.
3. Add in roasted peppers to oven-safe serving casserole (if desired) and top with cheese. Bake for
additional 10-15 minutes or until cheese has softened and begun to melt. Top hash with eggs
cooked to your preference and sliced basil.
Ham and Potato Soup
Ingredients
3 1/2 cups peeled and diced potatoes
1/3 cup diced celery
1/3 cup finely chopped onion
3/4 cup diced cooked ham
3 1/4 cups water
2 tablespoons chicken bouillon granules
1/2 teaspoon salt, or to taste
1 teaspoon ground white or black pepper, or to
taste
5 tablespoons butter
5 tablespoons all-purpose flour
2 cups milk
Directions
1. Combine the potatoes, celery, onion, ham and water in a stockpot. Bring to a boil, then cook
over medium heat until potatoes are tender, about 10 to 15 minutes. Stir in the chicken bouillon,
salt and pepper.
2. In a separate saucepan, melt butter over medium-low heat. Whisk in flour with a fork, and cook,
stirring constantly until thick, about 1 minute. Slowly stir in milk as not to allow lumps to form
until all of the milk has been added. Continue stirring over medium-low heat until thick, 4 to 5
minutes.
3. Stir the milk mixture into the stockpot, and cook soup until heated through. Serve immediately.