Safety Recipe of the Week: The Perfect Pasta Salad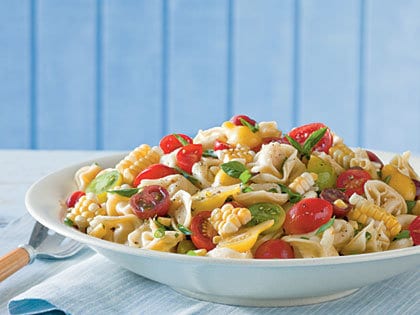 Article provided by: Melanie Taylor
The culinary encyclopedia 'Larousse Gastronomique' defines salad as "a dish of raw, cold, or warm cooked foods, usually dressed and seasoned, served as an appetizer, side dish or main course." But to remember a successful salad is generally to remember a successful dinner; at all events, the perfect dinner necessarily includes the perfect salad.
The Perfect Pasta Salad
12 ounces rotini pasta
12 ounces fresh spinach and cheese tortellini (Whole Foods)
2 dozen grape tomatoes, halved
1 tablespoon teaspoon kosher salt for the water
1/2 cup olive oil
3 -4 cloves garlic (depending on size of cloves)
1/8 tsp pepper flakes
1 cup parmesan cheese – shaved with a vegetable peeler
Salt and pepper to taste
1. Halve tomatoes and Shave parmesan cheese with a vegetable peeler, then set aside separately.
2. In a large saucepan, bring 4 quarts of salted water to a boil. Add the rotini, reduce to a low boil and cook to the desired doneness, about 10 minutes, adding the tortellini during the last 6 minutes of cooking. Reserve ½ to ¾ cup pasta water. Drain and transfer to a large bowl – do not rinse.
3. Meanwhile, heat the oil in a small pan on med/low heat.
4. Slice the garlic thinly, add it and the red pepper flakes to the oil. Remove the pan from the heat when the garlic turns a pale golden color (do not brown the garlic). Remove the garlic from the oil and set aside. If you love garlic and choose to leave it in the oil, I would use your garlic press vs. slicing.
5. While the pasta is still warm, add the tomatoes, cheese and oil – toss to combine. Serve Warm. If you think the pasta is to dry, add the reserved pasta water a tablespoon or so at a time.
Serves 6 and about 35 minutes to prepare.