Safety Recipe of the Week: New-School Green Bean Casserole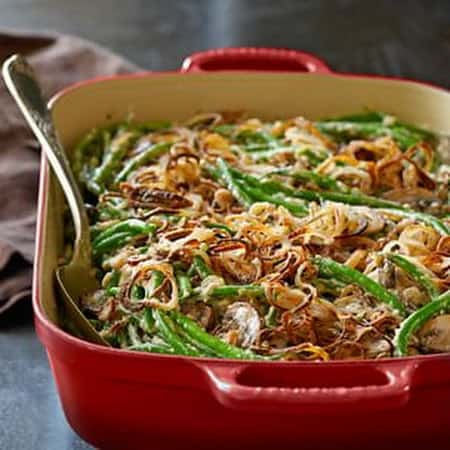 The one nasty dish often served for Thanksgiving is "Green Bean Casserole" even just typing the words makes my nose crinkle up. So I set out to find a recipe that was a more modern version, while still calling it a Green Bean Casserole. Here you go – enjoy!
New-School Green Bean Casserole
Ingredients:
3 (15oz package) Frozen French Cut green beans, thawed and well drained
½ cup salted butter divided
1 (8oz package) of sliced fresh cremini mushrooms, roughly chopped
1 large shallot chopped
6 Tbsp. all-purpose flour
4 cups whole Milk
1 ½ cups (4oz) Parmesan Cheese Shredded
2 tsp. kosher Salt
½ tsp. black pepper
1 (8 oz.) can diced water chestnuts
1 cup crispy fried Shallots about 2 ounces – place the additional shallots on the stores scale. – If you are over, the more the better for the topping. You can do this before you start the directions 1-3 or after step 2.
Directions:
1. Preheat oven to 350 degrees. Squeeze green beans light with hands to remove water then spread out on a paper towel.
2. Heat 2 tablespoons of the butter in a Dutch oven over medium-high heat. Add mushrooms and shallot, and cook, stirring often until mixture is deeply browned and caramelized, 8-10 minutes. Transfer mixture to a plate with a slotted spoon and without wiping out the Dutch oven, add remaining 6 tablespoons of butter to the Dutch oven. Melt butter over medium-high; whisk in the flour, and cook, whisking constantly, 1 minute. Gradually add milk, whisking until smooth. Cook, whisking until thickened and bubbly, about 4 minutes. Remove from heat and whisk in the parmesan cheese, kosher salt and black pepper until melted and smooth. Stir in green beans, mushroom mixture, and water chestnuts; spoon into a lightly greased 13-X9-inch baking dish.
3. Bake in preheated oven until bubbly around the edges, 15 minutes. Remove from oven and top with the fried shallots. Return to oven and bake until the topping is golden brown about 15 minutes.
Note – It's really easy and well worth the extra effort! So much better than opening a can of creamed mushroom soup, squeaky green beans and canned onions.