Safety Recipe of the Week: Meatloaf my way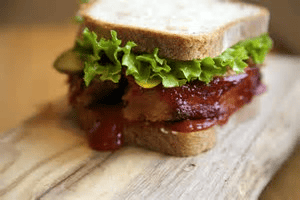 Article provided by: Melanie Taylor
Some people hate Meatloaf but I LOVE it, especially cold Meatloaf sandwiches on (bad for you gooey) white bread. Meatloaf like chicken can be made a thousand ways – this is one of my favorites along with my favorite clip. Enjoy!
Watch clip: https://www.youtube.com/watch?v=rXpMa8R6dKI
Meatloaf my way
1 ½ pounds ground beef or bison
½ cup milk
2/3 cup bread crumbs
2 eggs
1 small onion
1 tsp kosher salt
½ tsp sage
½ tsp pepper
½ tsp butter (to statue onion)
½ tsp olive oil (to statue onion)
Preheat oven at 350 degrees
Melt butter and olive oil in a statue pan, dice onions and cook them until they are golden brown.
Drain off the oil, place onions in a mixing bowl along with the balance of the ingredients. Do not over mix – it will cause the meat to be tuff.
Place the meat mixture in a loaf pan and bake for 30 minutes.
Meanwhile mix together topping –
6 tablespoons brown sugar
1 cup ketchup
½ tsp nutmeg
1 tsp yellow mustard (not powder)
Remove loaf pan from the oven and drain any excess fat out of the pan. Spread the topping mixture on the meatloaf and bake another 30 minutes. Tent with foil and rest for 5 minutes on a wire rack before serving.