Safety Recipe of the Week: Harvest Sausage and Apple Stuffed Acorn Squash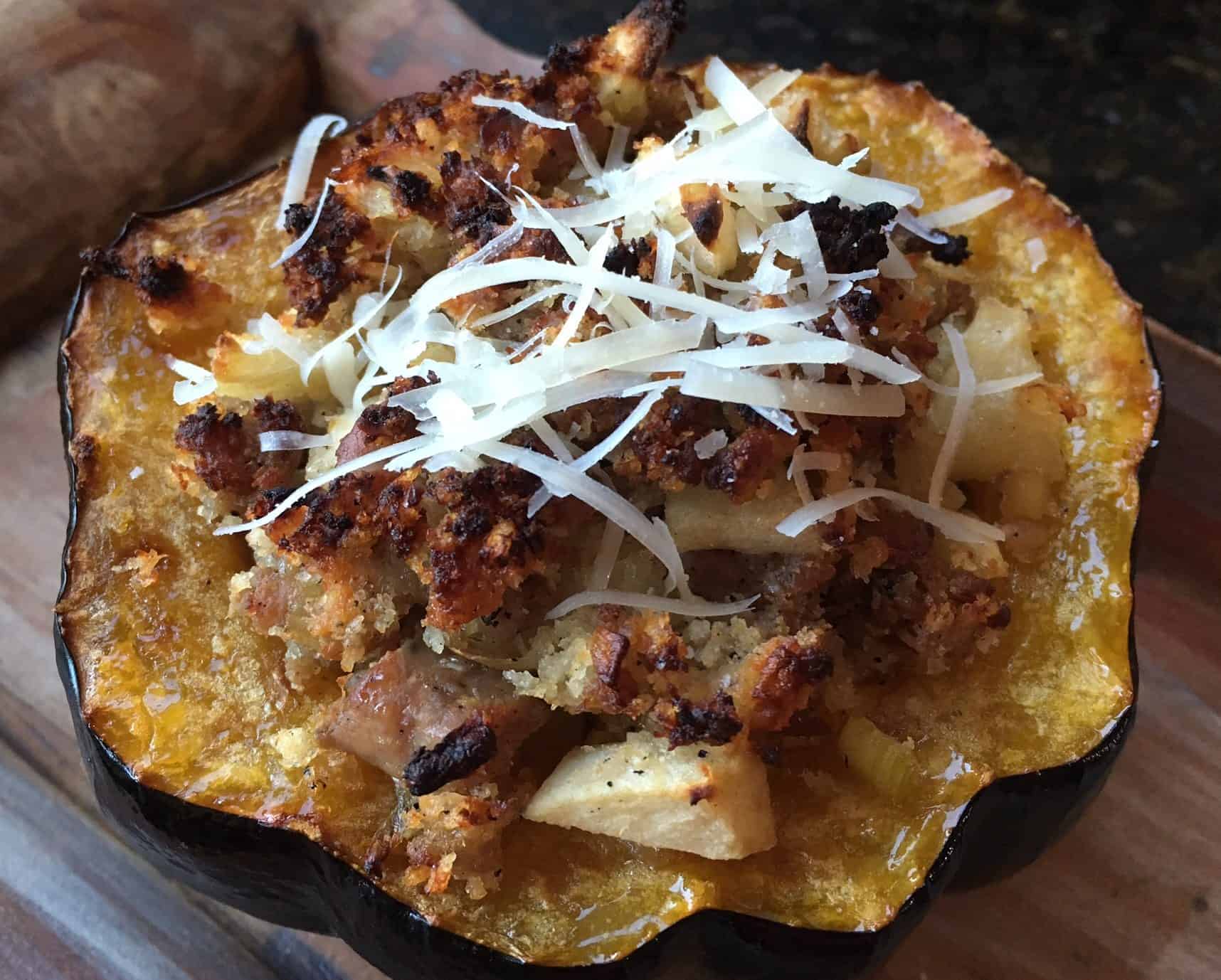 Another Taylor Kitchen Success!
Harvest Sausage and Apple Stuffed Acorn Squash – yum! We prepared this Halloween night; paired with a green salad and garlic bread – quite a feast!
Harvest Sausage and Apple Stuffed Acorn Squash
Ingredients:
3 Acorn Squash
Olive oil or coconut oil
Salt & pepper for seasoning
1 tsp. dried Italian seasoning
¼ Tsp. Cayenne pepper
1 pound of Italian sausage castings removed. We used Jimmy Deans Sage sausage instead.
1 small onion finely chopped
2 large celery stalks
2 apples cored and diced. We used green apples and removed the peel.
½ tsp. dried sage
1 tbsp. bread crumbs (or coconut flour for gluten-free dish)
1 cup shredded parmesan cheese divided
Directions:
** Since were are just two now we only bought 1 squash and vacuumed sealed the remainder of the stuffing for another time or two.
1. Preheat the oven to 425 degrees. Cut the stem off the end and the bottom to make them plat allowing them to sit – remove as little as possible. Remove the seeds, rub with oil; season with salt, pepper, Italian seasoning and the cayenne pepper. Bake squash for about 40 minutes, or until they're easily pierced with a fork but still hold their shape.
2. Meanwhile, brown the sausage, adding the onion and celery after a few minutes. Sauté until the sausage is completely browned. Add the apples and sauté for an additional 2 minutes. Stir in sage and breadcrumbs or coconut flour. Add ¾ of the parmesan cheese; stir. Remove from heat.
3. Spoon meat mixture into the Acorn squash halves. Return to the oven for an additional 15-20 minutes. Serve warm with parmesan cheese sprinkled on top.