Safety Recipe of the Week: Carmela's Lasagna with Basil Leaves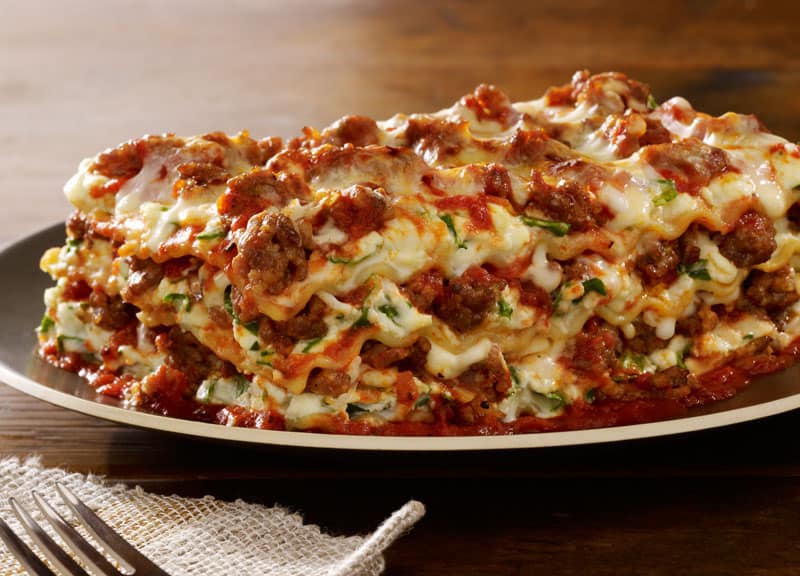 Who remembers the Sopranos?  I loved the series, it was about modern day mobsters living in New Jersey and it ran from 1999-2007. We purchased all the seasons and would watch a few at a time, it's better than waiting a week for the next episode.  Especially when you get to a real juicy part.
We aren't the typical TV series watchers, we usually prepare food that correlates to the series we are watching.  Silly perhaps – but fun too, an example this is weeks recipe.  We bought the "Entertaining with the Sopranos" cook book and prepared many, many meals from the book.   We pulled it out this weekend and made Carmela's Lasagna with Basel Leaves.  Man-O-Man was it good – here is the recipe, enjoy!
CARMELA'S LASAGNA WITH BASIL LEAVES
1 lb. dried lasagna
5 to 6 cups meat sauce (recipe below)
2 lbs. ricotta
Salt and freshly ground pepper
1 cup freshly grated Parmigiano-Reggiano or Pecorino Romano
1 large bunch basil, leaves removed, rinsed and dried
12 oz. fresh mozzarella, thinly sliced
In a large pot, bring 4 quarts salted water to a boil. Add a few pieces of lasagna and cook, stirring gently, until tender but slightly underdone. Scoop the pasta out of the water with a sieve, and cool it in a bowl of cold water. Cook remaining pasta. When cool enough to handle, lay the lasagna out flat on lint-free (not terry cloth) kitchen towels.
In a bowl, beat the ricotta and salt and pepper to taste.
Spread a thin layer of the sauce in a 9 x 13 x 2 inch baking pan. Place a few sheets of lasagna in the pan in a single layer, overlapping slightly. Spread evenly with about one-third of the ricotta mixture and sprinkle with 2 Tbsp. of the grated cheese. Make a layer of basil leaves and another of mozzarella slices on top. Make two more layers the same way. Top with a final layer of lasagna, sauce and remaining grated cheese. (The lasagna can be made ahead to this point. Cover with plastic wrap and refrigerate several hours or overnight.)
Place a rack in the center of the oven. Preheat the oven to 375 F.
Bake the lasagna for 45 minutes. If the lasagna is browning too much, cover it loosely with foil. Bake 15 minutes more (longer if it has been refrigerated), or until top is browned and sauce is bubbling around the edges. Let stand 15 minutes. Cut into squares and serve. Serves 8 to 10.
MEAT SAUCE
Use in the lasagna recipe.
1 medium onion, chopped
3 large garlic cloves, chopped
2 Tbsp. olive oil
8 oz. sweet Italian-style sausage, casings removed
1 lb. ground beef sirloin (I used bison because I prefer it over beef)
Salt and freshly ground pepper
1 35-oz. can Italian peeled tomatoes, chopped
1 28-oz. can tomato puree
6 fresh basil leaves, torn into bits
In a large saucepan, cook the onion and garlic in the oil over medium heat, stirring occasionally, until softened, about 7 minutes.
Stir in the sausage meat, breaking up the lumps with the back of a spook. Add the beef and salt and pepper to taste. Cook, stirring often, until the meat is nicely browned and crumbly. Tip the pan and discard fat.
Add the tomatoes and tomato puree, then add about 1/2 cup water to each can and swirl it around to rinse out the can. Add the liquid to the pan, along with salt and pepper to taste. Partially cover the pan and bring the sauce to a simmer. Reduce the heat to low and cook, stirring occasionally, until the sauce is thickened and the oil has separated from the tomatoes, about 1 ½ hours.
Stir in the basil and cook 5 minutes more.
Use immediately, or let it cool, cover and refrigerate up to 3 days. This sauce also freezes well.