Safety Recipe of the Week: Beefy Biscuit Bake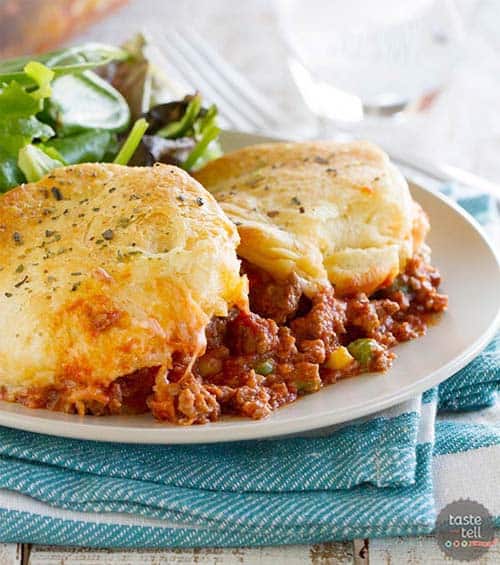 It doesn't have to be fancy to be good. Especially when this recipe comes from a book named "Quick & Easy Dump Dinners" – I kid you not!
My son, Branden was teasing me a couple of years back about something I made and asked if it comes from the Dump Dinners cookbook; thinking he was joking with me "as usual". But he wasn't, and I bought the book. In fact, Cathy Mitchell "As seen on TV" has several different types of dump books – for example, dump meals, dump cake, dump crockpot, dump for Diabetes (no Joke) and so on … ha, ha, ha!
The premise is great, but the name makes me giggle a bit. Enjoy!
Ingredients:
1 ½ pounds cooked ground beef or bison
½ envelope Lipton Onion Soup mix (about 1 heaping Tablespoon)
1 8-oz package of cream cheese, softened
1 can Cream of Mushroom Soup
¼ cup milk
1 16-oz bag of frozen peas and carrots
½ teaspoon seasoned salt
¼ teaspoon pepper
1 7-oz can biscuits
Melted butter
Parmesan cheese
Directions:
1. Preheat oven to 375 degrees.
2. Spray a 2 quart casserole dish with nonstick spray.
3. Mix soup, cream cheese, milk, onion soup mix, salt and pepper in the casserole dish until smooth.
4. Fold the peas and carrots to the meat and add to the Casserole, stir to blend.
5. Bake for 30 minutes until hot and bubbly, remove from the oven.
6. Arrange biscuits on top, return to the oven and bake 10-15 minutes until biscuits are browned.
7. Remove from oven and brush biscuits with melted butter and parmesan cheese.
Serves 4-6