Safety Recipe of the Week: Apple Crisp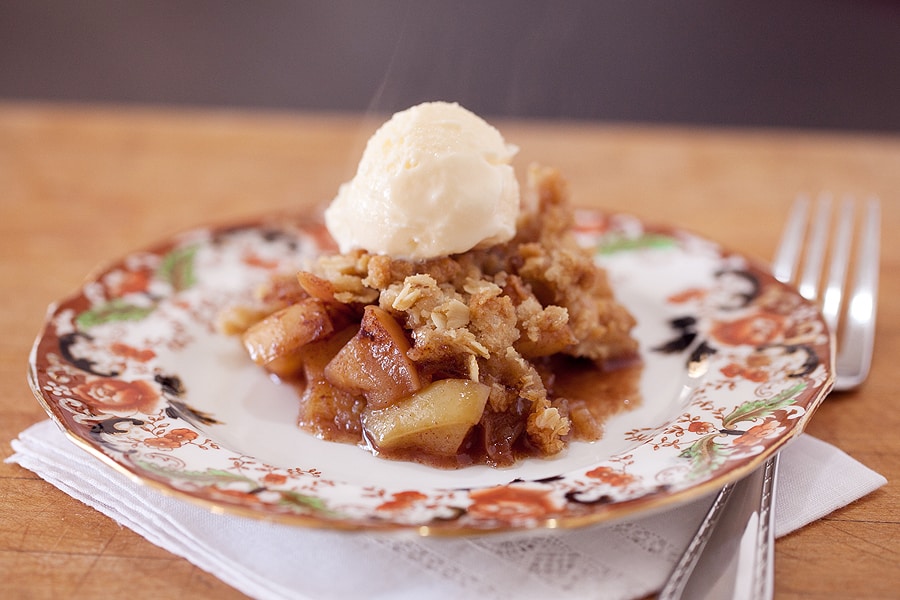 As I sat here waiting for a bolt of lightning to strike me – I needed a little inspiration for this week's recipe.
So, I opened the cabinet where we store the cookbooks we collect, we have close to 150 now. What caught my attention was the very first cookbook I ever owned and my first memory using it was about age 19. A Betty Crocker cookbook.
I don't know where I even got it, a garage sale perhaps? There's a Des Moines public schools stamp on the top edge of the book – I've never been to Des Moines. I turn the book over carefully because it's literally falling apart and I see that I've added a mustache to Betty – ha, haha!!!
Apple Crisp
Ingredients:
4 medium tart cooking apples, sliced (4 cups)
3/4 cup packed brown sugar
1/2 cup Gold Medal™ all-purpose flour
1/2 cup quick-cooking or old-fashioned oats
1/3 cup butter or margarine, softened
3/4 teaspoon ground cinnamon
3/4 teaspoon ground nutmeg
Instructions

1. Heat oven to 375ºF. Grease bottom and sides of 8-inch square pan with shortening.
2. Spread apples in pan. In a medium bowl, stir remaining ingredients except cream until well mixed; sprinkle over apples.
3. Bake about 30 minutes or until topping is golden brown and apples are tender when pierced with a fork. Serve warm with cream, or ice-cream